If you love speed as we do, then you are in great hands.
We can build a turbocharger tailored to your needs.
Please review four stages of the upgrade we have on offer:
MACHGRADE Stage I Upgrade
Here is what we can do as a starter:
journal bearings – so-called '360'
metalworking of bearing housing
metalworking of seal plate
metalworking of compressor housing
enlarged cast/billet compressor wheel
Stage 1 upgrade focuses on modification of the cold side of the turbocharger. That's the side which generates boost pressure. Bigger diameters of housing and compressor wheel allow for a higher rate of mass airflow at the same boost level.
MACHGRADE Stage II Upgrade
This stage comes with Stage 1 upgrades plus additionally:
an enlarged cast turbine wheel
The second stage solves issues with the flow of exhaust gases. At higher RPM the reduction of torque and as a result, the reduction of power is caused by engine choke. The bigger diameter of the turbine wheel removes this constraint and allows the engine to breathe freely.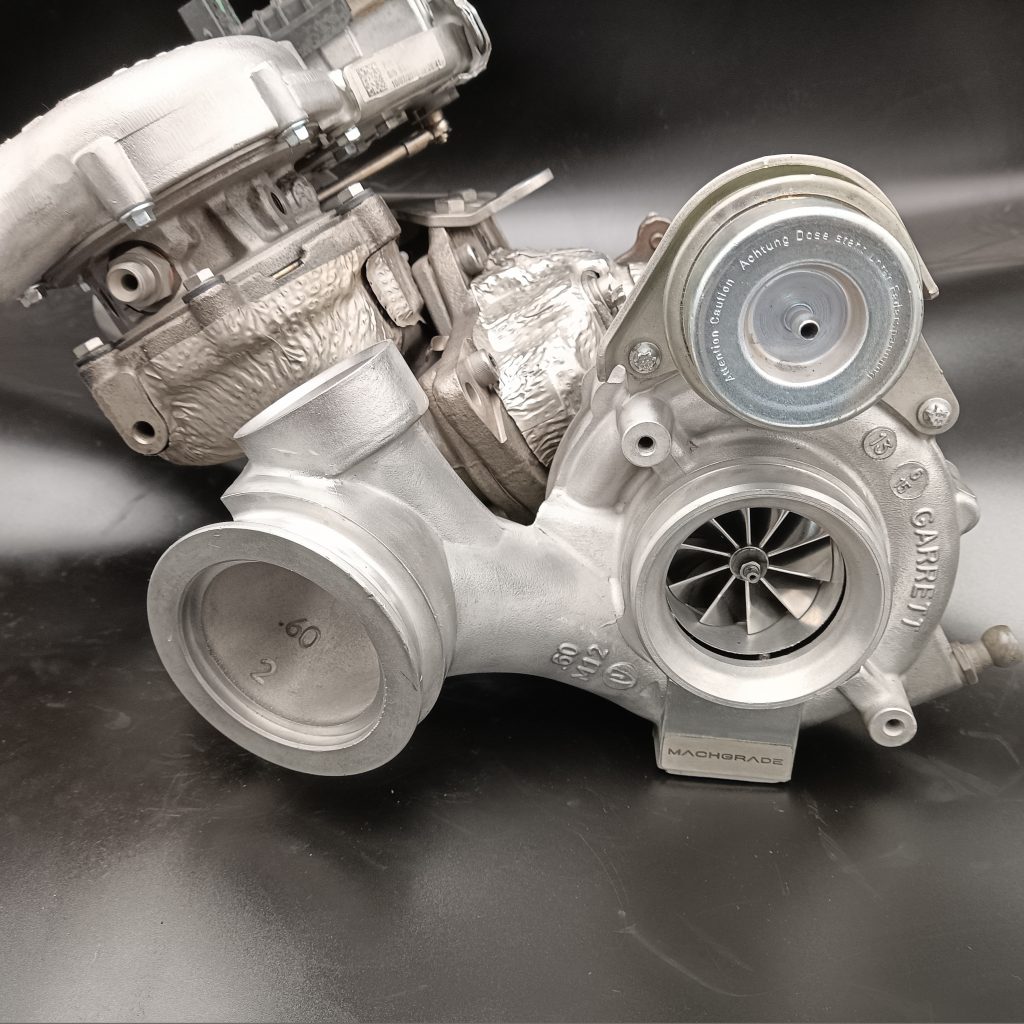 MACHGRADE Stage III Upgrade
Stage 3 pushes wheel diameters to the limit of the turbo housings. It's the most extreme version which sacrifices spool for power.
Optional upgrades available for every Stage
Clipping with Lightening of Turbine Wheel
It's a machining process that enables the turbocharger to increase power output by reducing the backpressure. During this process, some blade material from the turbine wheel is removed which results in a slight reduction in turbocharger response time.
Reinforced actuator
Allows for higher boost pressure to be run. A stronger/uprated actuator means the turbocharger will achieve a higher boost before the wastegate opens usually delivering more power.
MACHGRADE Custom Upgrade
Define what you need, and we will deliver! E.g. we can build a turbocharge from two separate stock ones. It's a very common solution with the GTB2260VK/VKLR type of turbo and VAG 1.9/2.0 TDI engine.
General information
Only new parts of the highest quality are being used
To assure great and lasting performance of your car other parts of the engine need to be tuned/upgraded as well
We need on average 5-10 working days to build a turbo
There are 12 months of guarantee for each unit.
We ship worldwide!