MACHGRADE B47D20 Upgraded Turbochargers are built using aluminum Custom Compressor Billet Wheels and ceramic ball bearings. These are based on the stock genuine Garrett GTD1752VRK turbochargers and deliver the ultimate Plug&Play solution for BMW 120D F20, 220D F22, 320D F30, 420D F32, 518D F10, 520D F10, 520D G30, X3 20 d F25, X3 20 d G01, X4 20 d F26 with 2.0d  engine 150-190HP.

Full list of changes applied
Genuine ceramic ball bearings,
Modification of compressor housing,
Modification of seal plate,
Enlarged compressor Billet Wheel 11+0 GEN II,
Only oil cooling (there is no water cooling),
Further features
Genuine Garrett compressor housing,
Genuine Garrett exhaust manifold,
Genuine Garrett bearing housing,
Genuine Hella electronic actuator,
Dynamically Balanced,
100% Plug&Play fitment,
Precise VNT adjustment
Performance capabilities
The turbo is meant to work with ~260-270HP, at boost of 32PSI/2,2Bar. In order to reach that level of power, you need to adjust your exhaust and cooling systems as well. Professional ECU remapping is required.
Example project
BMW G30 520d with a B47D20 engine fitted with our Upgraded Hybrid Turbocharger managed to produce 295HP and 577Nm of torque. Car was equipped with:
Wagner Intercooler,
MACHGRADE B47D20 Hybrid turbocharger,
Stock Exhaust,
Stock Intake.
Please find the power and torque curves below: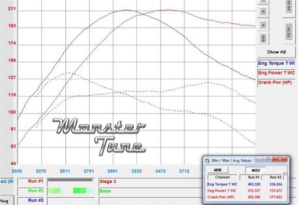 ---
Cars
BMW 120 d (F20/F21) 190HP
BMW 220 d (F22/F23) 190HP
BMW 320 d (F30/F31/F34) 190HP
BMW 420 d (F32) 190HP
BMW 518 d (F10/F11) 150HP
BMW 520 d (F10/F11) 190HP
BMW 520 d (G30) 190HP
BMW X3 20 d (F25) 190HP
BMW X3 20 d (G01) 190HP
BMW X4 20 d (F26) 190HP
Engines
B47D20
Factory numbers
819976-5021S
819976-5016S
819976-5014S
819976-5012S
819976-0012
819976-0010
819976-0007
OEM numbers
11658570083
857008207
---
Before you order
The average lead time (the time we need to build and ship a hybrid turbocharger) is 10 working days.
In order to manufacture your turbo and make sure it fits correctly, we require the following details of your car:

model and year of build,
stock power,
VIN number

Do you need a turbo with different specification? No problem! Learn more about hybrid turbo we can build
and contact us!