MACHGRADE Hybrid Turbocharger uses as a base a stock Honeywell unit and is upgraded with a custom CNC billet compressor wheel. MACHGRADE hybrid is designed to deliver output of 350HP at the crank as Plug & Play solution for Kia Stinger equipped 2.0 T-GDI engine with power ranging from 245 to 255HP.
Full list of changes applied
MACHGRADE custom journal bearings '360'
Modification of compressor housing
Modification of seal plate
Enlarged/custom compressor Billet Wheel
Genuine Turbine Wheel clipped & lightened to help reduce the backpressure
Further features
Genuine Honeywell compressor housing,
Genuine Honeywell exhaust manifold,
Genuine Honeywell bearing housing,
Original Honeywell electronic actuator,
100% Plug&Play fitment (the turbo is complete),
Dynamically Balanced.
Performance Capabilities
To reach the declared power level (350HP), you must ensure all the supporting mods are in place. That means you have to take care of other systems, like:
ECU remapping is necessary to take advantage of hardware upgrades. The Dyno graph of the example project is attached below for your reference.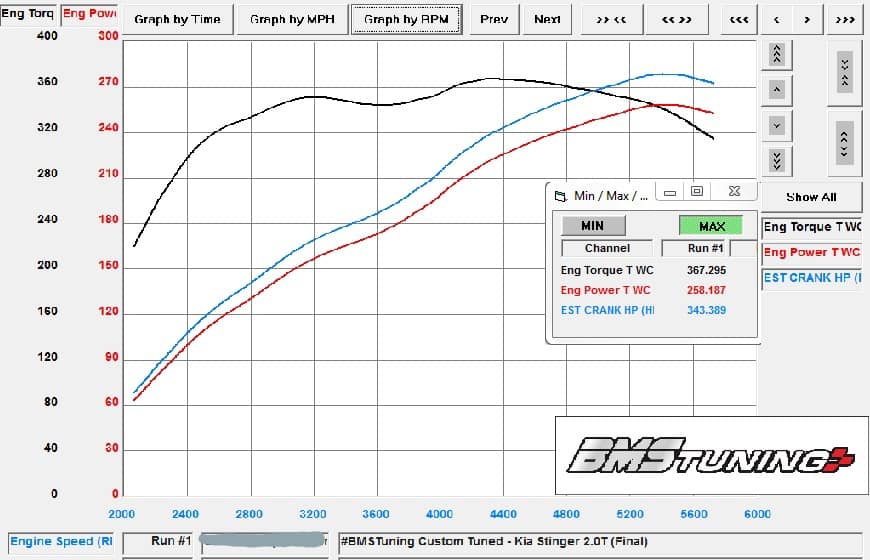 ---
The list below presents information helpful for checking if this upgraded turbocharger will be the right fit.
Cars
KIA Stinger 2.0 T-GDI 245HP
KIA Stinger 2.0 T-GDI 255HP
Engines
Theta FR

Factory numbers
852283-5003S
852283-5003
OEM number
282312CTA3
28231-2CTA3

---
Before you order
The average lead time (the time we need to build and ship a hybrid turbocharger) is ten working days.
To ensure right fitment of the turbo, we require the following details of your car:

model and year of build,
stock power,
VIN.

The is one year of warranty for this product.
We ship worldwide.
Do you need a turbo with a different specification? No problem! Learn more about hybrid turbos we can build
and contact us!