MACHGRADE IS38 Hybrid Turbocharger comes in 3 power options optimized to deliver 460, 500 and 550HP. Each version has upgraded both sides, the cold and hot ones, although the sizes of the wheels will differ. Read the specification below to find out more about each package. The MACHGRADE turbo is based on a stock, genuine IHI IS38 turbo and is fully bolt-on (plug and play) for cars by Audi, VW, and Seats equipped with 2.0TFSI with power ranging from 265 to 310HP.
Specification of the turbochargers
MACHGRADE IS38 460
Designed to produce 460HP @1.6bar. Full list of changes applied:
MACHGRADE custom journal bearings "360", ready to handle 2.7 Bar,
Modification of the compressor housing,
Modification of the seal plate,
Enlarged/Custom compressor Billet Wheel 6+6 blades,
Enlarged & lightened High-Flow 8 Blade Turbine Wheel
Further common highlights
Genuine IHI IS38 compressor housing,
Genuine IHI IS38 exhaust manifold,
Custom modified IHI IS38 bearing housing,
Genuine actuator,
Original diverter valve,
100% Plug&Play installation,
Dynamically balanced.
MACHGRADE IS38 500
Produces 500HP at the crank @2.2 bar. The full list of changes applied is the same as with the 460 package, with the exception of a bigger Compressor Wheel and 9 Blade Turbine Wheel.
MACHGRADE IS38 550
Delivers 550HP @2.2bar. The full list of changes applied is the same as with the 500 package, with the exception of an even larger, 7+7 Compressor Billet Wheel.
Performance capabilities
The power of each turbo is meant to work with powers as described above with the MACHGRADE is38 550 reaching its full potential @2.2bar. In order to get that level of power, you need to adjust your fuel, exhaust, and cooling systems as well. Professional ECU remapping is required.
Example project
Volkswagen Golf MK7 GTI with a 2.0 engine fitted with our MACHGRADE IS38 460 Hybrid Turbocharger managed to produce 409HP and 553Nm of torque. The car was equipped with:
HF Series Turbo inlet/outlet,
Wagner Tuning Intercooler,
Full turbo-back Militek exhaust with 200c catalyzer,
BarTek HPFP,
RacingLine Intake.
Please find the power and torque curves below: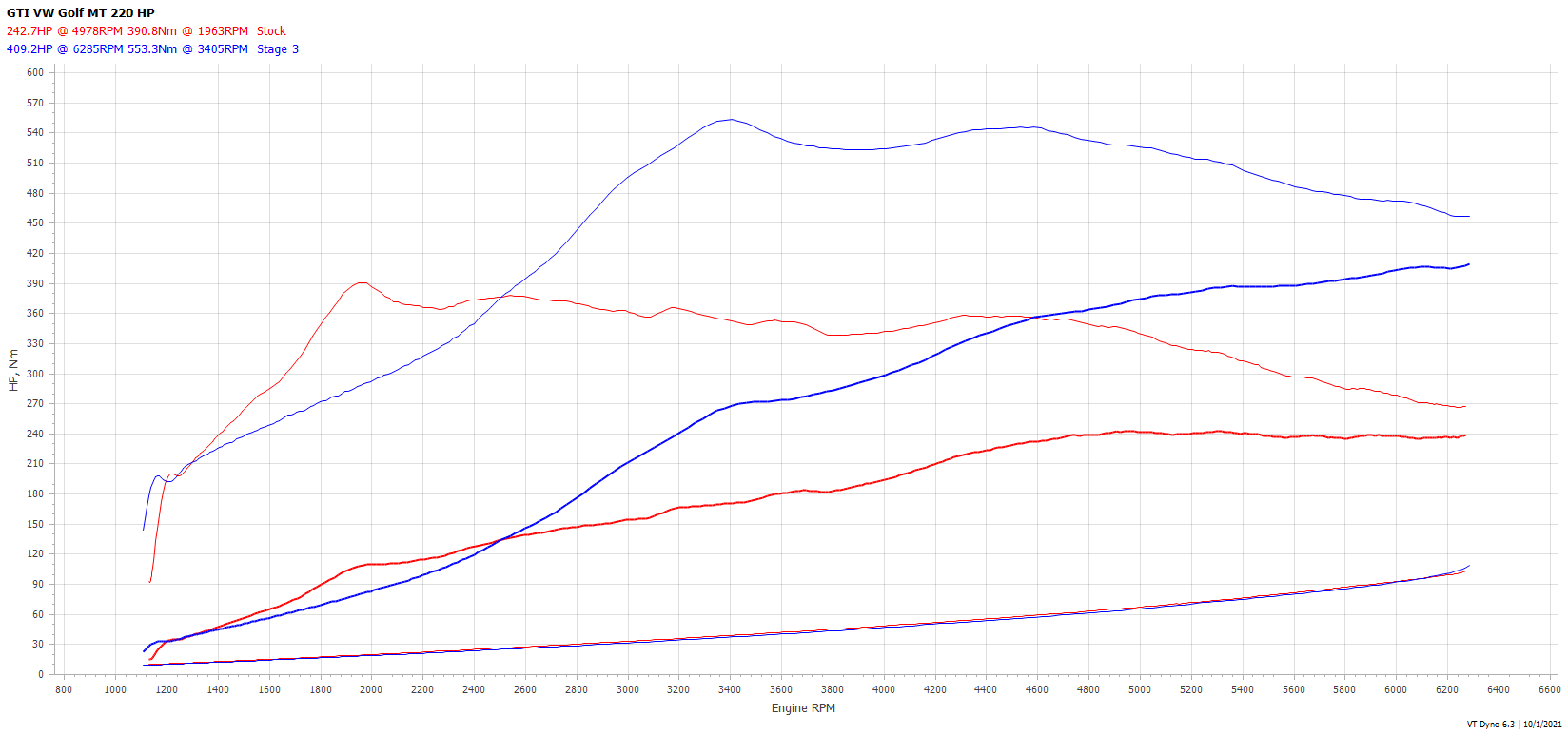 Another project using our MACHGRADE IS38 500 Hybrid Turbocharger is an Audi S3 8V, which managed to produce 483HP and 570Nm of torque. The car was equipped with:
CTS Intake,
Wagner intercooler,
De-Cat dump pipe,
Stock exhaust,
Small jet water meth injection,
93 octane fuel
Please find the power and torque curves below: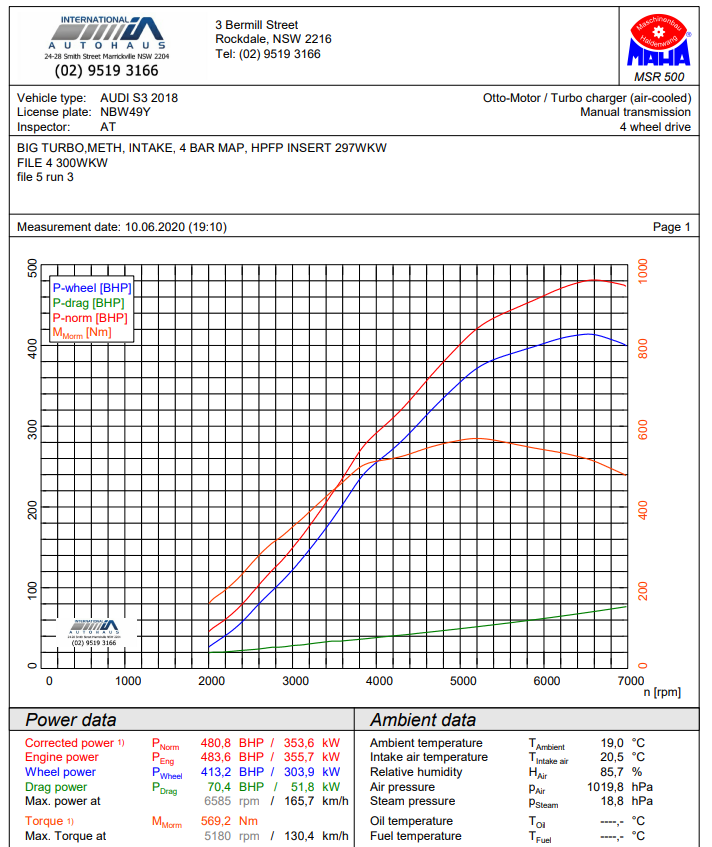 Yet another car using our MACHGRADE IS38 550 Hybrid Turbocharger is a 2016 Seat Leon Cupra AWD which managed to produce 516HP and 581Nm of torque @1.95bar. The car was equipped with:
VWR R600 full intake,
CTS low-pressure fuel pump,
Autotech high-pressure fuel pump,
Intercooler,
3″ De-Cat exhaust,
Stage 3 progressive software on RON98,
GFB DV+ diverter valve.
Please find the power curves below: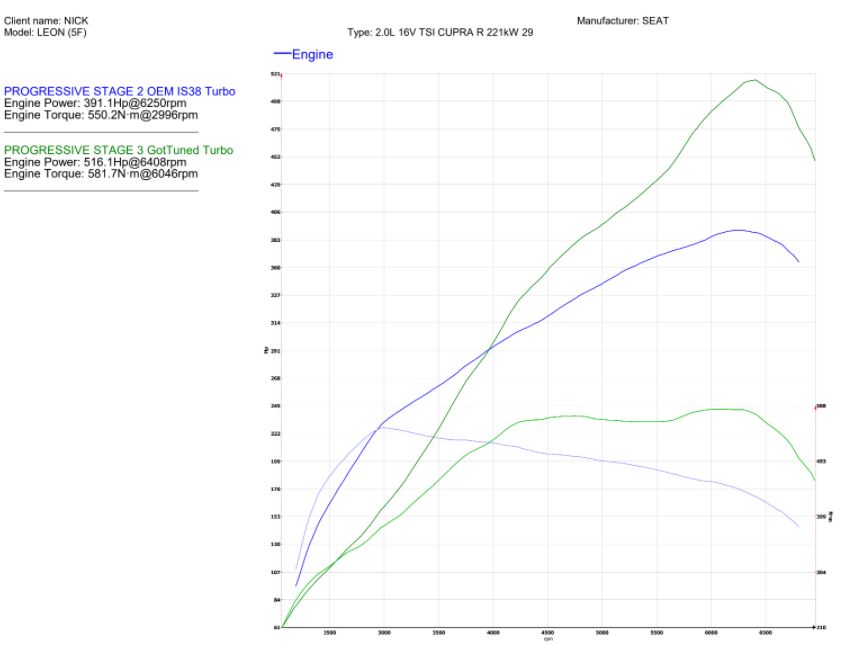 Will the turbo be P&P for my car?
The list below presents information helpful for checking if this upgraded turbocharger will be the right fit.

Cars
Audi S3 8V 300HP
Audi S3 8V 310HP
Seat Leon Cupra 2.0 TFSI 265HP
Seat Leon Cupra 2.0 TFSI 280HP
VW Golf VII GTI 220HP
VW Golf VII R 300HP

Engines
CJXB, CJXC, CJXG, DJHA, DNUE, CJXF
Factory numbers
06K145722H
OEM numbers
06K145722H
Important before you order
The average lead time (the time we need to build and ship a hybrid turbocharger) is ten working days.
To ensure the right fitment of your turbo, we require the following details of your car:

model and year of build,
stock power,
VIN number

There is one year of warranty for this product. No mileage limit.

We build our turbos with a focus on durability and motorsport. The aspect of reliability is paramount to us.

We ship worldwide.
Do you need a turbo with a different specification? No problem! Learn more about hybrid turbos we can build
and contact us!